James Swirsky & Lisanne Pajot of "Indie Game: The Movie"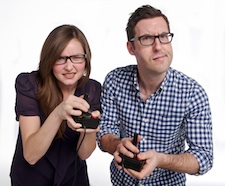 James Swirsky and Lisanne Pajot are the producers of the award-winning documentary Indie Game: The Movie, which chronicles the emotional journey of the independent developers of Super Meat Boy, Fez, and Braid as they struggle to make their video game dreams a reality.
Go behind the scenes and learn about the inspiration for the film, what is so special about independent games, how their own journey as independent filmmakers parallels that of the developers portrayed on screen, and more.
Plus the most challenging aspects of making the film, why thy bypassed more traditional distribution channels, and the unusual story behind the iconic Super Nintendo controller.
Podcast: Play in new window | Download
Links: